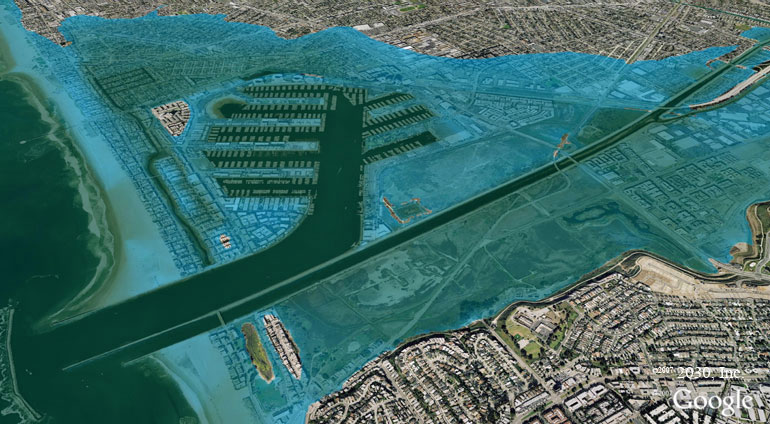 Some of you may recognize this Google map of Marina del Rey in Southern California. It has a blue overlay to demonstrate what would happen with a 5 meter rise in sea levels.
According to the advocacy group Architecture 2030, Home Depot is planting 300,000 trees in cities across the US to help absorb carbon dioxide emissions… The CO2 emissions from only one medium-sized (500 MW) coal-fired power plant, in just 10 days of operation, will negate this entire effort. Similarly, "if every household in the US were to replace one incandescent light bulb with a compact fluorescent (CFL), the CO2 emissions from just two medium-sized coal-fired power plants each year would negate this entire effort."
The group has developed and paid for a large advertisement in today's New York Times and they will be carrying it throughout the week in other venues as well. This is an enormous push back against building or putting into operation any new coal plants in the country.
Why coal? Many might think that our SUV culture is mostly responsible for US carbon emissions; actually it is the so-called "built environment". According to Architecture 2030
"Buildings use 76% of all the electrical energy produced at coal plants.Buildings are the single largest contributor to global warming, accounting for almost half (48%) of total annual US energy consumption and CO2 emissions."
Read the ad and see the logic for yourself. Coal is not the "cheaper" alternative to buying foreign oil. It carries a very high price.